How to display classes on the transcripts in the High School V Planner
Select Subjects from Drop-Down Lists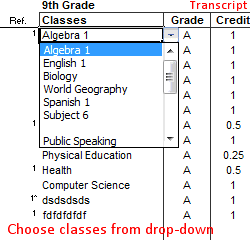 To make the classes show at the Transcript sheet in the High School V Planner, you must select them from a drop-down list. I made the transcript this way so that the classes can be ordered as you please.
The drop downs lists are present on all Transcript sheets – Transcript (the 4-year transcript),  Transcript1,  Transcript2,  Transcript3,  and Transcript4 (the 1-year transcripts).
The subjects in the drop-down lists are from the Data sheet. Any changes to any of the subjects at the Data sheet will immediately show in the drop-down lists. HOWEVER – if a subject name is altered in any way, it will have to be selected again from the drop-down lists at the Transcript. Any newly added subjects will have to be selected as well.
Note: The drop-down lists might have empty spaces between some of the subjects – this is normal.
Subject Checker on Transcript Sheet
To the right of the printable portion of the transcript I placed a subject check. The formula in the subject check looks for class names that should be listed in the transcript and if a class is not found, several red exclamation marks are displayed next to it in the check. It's only a useful tool and does not have an effect on anything else. (pictured below)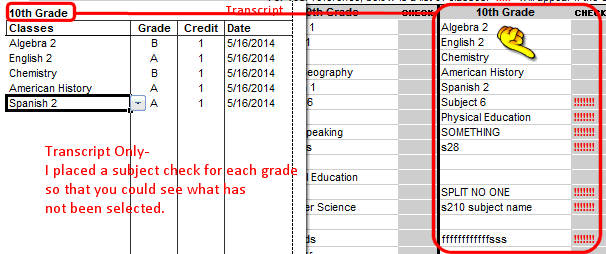 Subject Checker on Transcript#(1-4) Sheets
Transcript1, transcript2, transcript3, and transcript4 (the single year transcripts) helps you check subjects by comparing credit counts. (pictured below)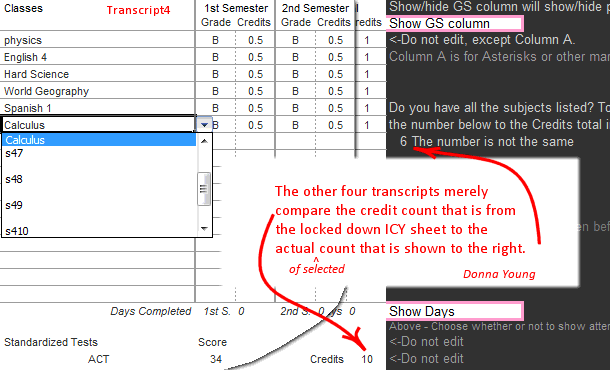 The credit count from Transcript#(1-4) is the full credit count for the year that is counted at the ICY sheet. The credit count will not match unless all subjects are displayed. The "as displayed" credit count is in the gray area and serves as the checker.
While on the subject of credit counts on Transcripts – the 4-year transcript displays credits for the subjects shown, which gives you the option of not displaying every single subject on the transcript.
Summary
At any transcript sheet, choose the classes from drop-down lists
If a class name is changed or if a class is added at Data (the only place to do this) then the class will have to be selected (again) from the drop-down list.
Transcript (the 4-year transcript) uses subject names to check for omitted classes.
Transcript# (1-4) uses a credit count to check for omitted subjects.