An Undated, Dated Calendar
This calendar is educational in a way. It is a monthly calendar and it has no numbers, however; it is dated.
Each month will have the right amount of date blocks in the proper places. The child should write the dates in the correct block, basically beginning with number one in the first block and writing numbers in sequence, across then down, until the blocks are filled.
The child could also write the month and year, which is already noted on each month, and draw a seasonal picture on each month. Optionally, holidays could be noted. This calendar can potentially (depending on child's age) add to skills and knowledge in language arts, math, social studies, and drawing.
The Files - Contains all 12 Months - 1 Month per Page
The calendars on this page have been updated for the year 2014.
Donna Young
One of the Months Filled in with Dates and Decorated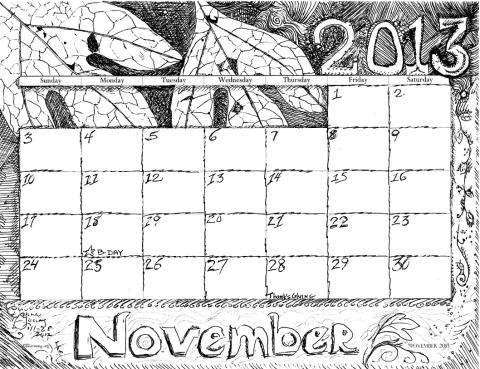 Drawing at DonnaYoung.org
Once drawing is going fairly well, a student studies other aspects of drawing such as texture and shading, for instance, as well as perspective and the principles of composition.