How to Make the 32-Page Word Book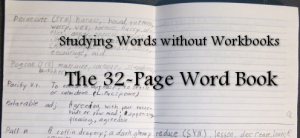 Below you will find the printable file and instructions for putting this booklet together - it is very simple. Regarding how to use the book - please visit Studying Words without Workbooks
Instructions

Print the lined paper print-out on the front and back of 8 sheets of paper. It will print blue vertical lines on your paper.

If you want a cover on your child's word book. Print the cover sheet on one sheet of paper. The cover sheet says "My Word Book". If you are not going to use this for a word book, then skip this step.

Stack all the paper together with the cover sheet on the outside. Staple them in the middle in at least 3 places. Before stapling, I usually fold the outside sheet in half and then open it again to make a "line" for a guide on where to place the staples.

Fold the stapled pages in half to make the book.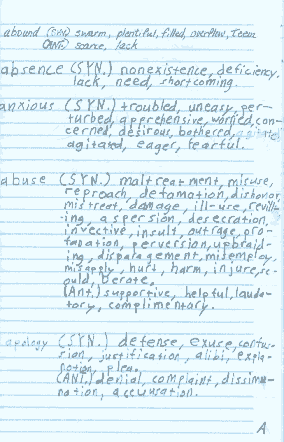 Now, letter the pages of your word book in this manner:
A on 2 pages
B on 2 pages
C on 2 pages
D on 1 page
E on 1 page
F on 1 page
G on 1 page
H on 1 page
I on 1 page
J on 1/2 page
K on 1/2 page
L on 1 page
M on 2 pages
N on 1 page
O on 1 page
P on 2 pages
Q on 1/2 page
R on 1 1/2 pages
S on 3 pages
T on 2 pages
U on 1 page
V on 1/2 page
W on 1 1/2 pages
X on 1/2 page
Y on 1 page (divided)
Z on 1/2 page
Other Pages at DonnaYoung.org