Homeschool Attendance Records
Not everyone has to keep track of attendance. If you do, here are four attendance form choices. The top two are the most official looking attendance forms. The Colonial Planner attendance form is the nicest but uses 3 sheets of paper. The 180 Days Attendance Form is extremely plain.
On This Page
Bookmarks to the Attendance Calendar Files
2-Page Dated Attendance Calendar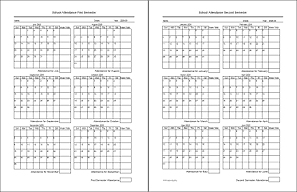 The 2-page attendance form can keep attendance records for one student. Each page is for one semester. Keep attendance totals for each week, each month, and each semester.
The form is available starting in the months: July or August.
August - 2 Januaries (Aug-Jan-Jan) would be the one that I would have needed in the past. Our semesters typically ran from August to December and then from January through May. Sometimes the 1st semester spilled into January and sometimes the 2nd semester spilled into June.
August - 2 Januaries
Aug-Jan-Jan 2014-15
Aug-Jan-Jan 2015-16
Aug-Jan-Jan 2016-17
2-Page Dated Attendance Files updated for 2015, DY
3-Page Attendance Calendar -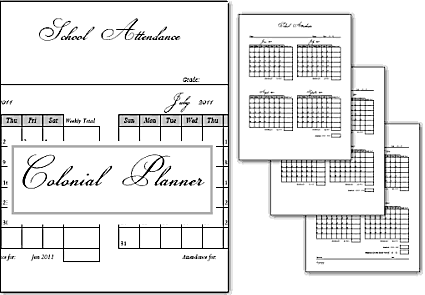 3-Page Attendance Files updated for the year 2015,
Donna Young
Attendance H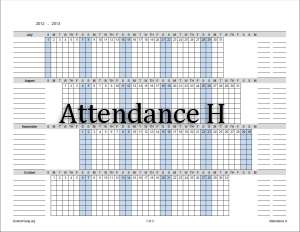 Attendance H is an attendance calendar that prints horizontally (landscape). Attendance H allows you to count attendance for more than one child. The calendars are available for seven children (3 pages), four children (2 pages), and two children (1 page). These numbers of children were chosen not because I think the numbers are common, but because the ruled lines for each child fit nicely on a certain amount of pages.
The lines on the right side of the calendar can be used for anything that you deem useful. I would use one of the columns for monthly totals.
The Files for Attendance H
All of the calendars begin in July.
Attendance H Files updated for the year 2015,
Donna Young
180, 200 Days Attendance Form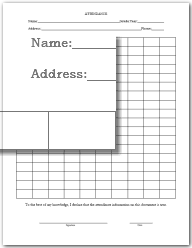 This form is very basic. Simply write the date in each square. Each row has 10 squares. There are two forms, one with 180 squares and one with 200 squares. The 200 Days form has numbers 1-200 to the side of each row in increments of 10.

180 Days of Attendance

200 Days of Attendance
Ruled Calendar with "Student Attendance" Header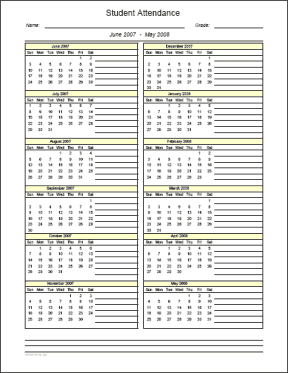 This is a ruled calendar. To see other ruled calendars without the "Student Attendance" Header, go to these links:

Files for Ruled "Student Attendance" Calendar
Ruled Student Attendance Calendar Files updated for the year 2015,
Donna Young
Related
The calendars on this page are available up to the year 2025-26 on YoungMinds
More Calendars at DonnaYoung.org