Worksheets that Require Input
V Planner 4.2, High School V Planner V4.2, and Homeschool Lesson Planner V4 are ready for use. Download from the Member's area.

Please visit the help pages for the worksheets listed below. The worksheets listed are "Input" worksheets meaning that you enter information into the worksheets. Not listed are the S-Sheets and those worksheets have thier own place in the menu above.
Donna Young
Updated
About the V-Planner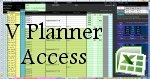 The V Planner is a spreadsheet file in xls and xlsx format. To use the file, you must have Microsoft Excel on your computer. The V Planner is available from YoungMinds web site. YoungMinds is online via a subscription and on Donna Young's Site-CD.