Modifications
V Planner 4.2, High School V Planner V4.2, and Homeschool Lesson Planner V4 are ready for use. Download from the Member's area.

Please do not alter the basic V Planner worksheets unless I add one here that does. This area will deal with safe modifications - meaning - To create a new worksheet to display certain data (reports). The worksheets that currently display data are listed under the Reports menu. Less than safe modifications are made to existing stock worksheets, but if you follow my instructions very carefully, then the modification should be successful.
Important Points about Modifications
Download the code and open in a TEXT editor - This is important. If the colors are altered after pasting the code, then the file is not opened in a genuine text editor. Windows is shipped with a text editor called NotePad. I do not know what Apple/Mac has for a text editor.
When creating a new worksheet - make certain that you are modifying the new worksheet or the copy of the original worksheet and not THE original worksheet.
It takes a full day to create a full fledged fully tested modification such as a lesson planner. The video takes another hour or more. I'm not saying that my formulas or instructions are flawless, I am asking that if you have trouble, please start over and try again.
You must be meticulous.
How to Make a Daily Planner for V Planner V3 No longer needed
Make a daily planner from a copy of the block planner
This involves making a copy of a block planner and, into that copy, pasting formulas so that it functions as a daily planner. The rest of the modification that are shown on the video, moving cells and formatting, are optional.
Alternate Grade Scale Legends
Go to the bottom of the page GS-QP or/and see the Blog http://donnayoung.org/homeschool-vplanner/articles/grade-scale-legend
About the V-Planner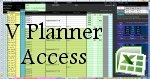 The V Planner is a spreadsheet file in xls and xlsx format. To use the file, you must have Microsoft Excel on your computer. The V Planner is available from YoungMinds web site. YoungMinds is online via a subscription and on Donna Young's Site-CD.