About the Notes Worksheet
V Planner 4.2, High School V Planner V4.2, and Homeschool Lesson Planner V4 are ready for use. Download from the Member's area.

This is Notes, a worksheet where you may enter notes to yourself. Using the worksheet is easy. To use it, either select or type in the date, enter a topic (optional), and enter the note.
The data from Notes is not picked up by any other worksheet. It only exisists so that you can make notes to yourself.
Notes worksheet is printable, but be sure to check print preview first and make necessary adjustments.
For Important Notes
Up to two important notes or reminders may be entered at the Today worksheet.
The Calendar allows one sticky note that is displayed at Today.
About the V-Planner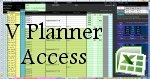 The V Planner is a spreadsheet file in xls and xlsx format. To use the file, you must have Microsoft Excel on your computer. The V Planner is available from YoungMinds web site. YoungMinds is online via a subscription and on Donna Young's Site-CD.