The Report Card - RC1
V Planner 4.2, High School V Planner V4.2, and Homeschool Lesson Planner V4 are ready for use. Download from the Member's area.

RC1 is a report card. To use it, view the following image and instructions.
Tip: To see which cells are open for typing or other actions such as drop-down lists, repeatedly press the TAB key on your keyboard and that will cause each unlocked cell to highlight with each key-stroke.
About Each Open Cell in RC1
If any of the cells below are not open, please follow the instructions at this video to unlock the cell. Depending on when you downloaded the V Planner, cell S18 might not be open.
Cell B1 contains a drop-down list of the children's names. Choose a name from the list to display that child's records.
Cell S10 is open and in this cell you may change or remove the name for Extracurricular Activities.
Cell S18 is open and in this cell you may change or remove the name for Awards.
Beginning at Cell O26, a small section is unlocked for typing.
Grade Scale drop-down lists are in Cells O33, O35, O37. Choose which grade scales to display. The actual grades scales used are listed just to the left of the drop-down lists.
About Column A in RC1
Column A will display QP references when necessary. So if you see a funny little mark in column A, that is what it is - a QP reference. Additionally the QP scale will automagically display when it is needed. There is nothing that you need to do about column A except marvel at the programmer's genius and forethought for including such a marvelous thing.
Making a Copy of RC1 for Each Child
Using RC1 for each child is easy and one copy of RC1 can create a printable report for each child, but if you want a an RC1 worksheet for each child do the following.
Right-click the TAB for RC1
Select Move or Copy
In the window that appears, Check the box labeled Make a copy
In the list of worksheets just above the check box, select the worksheet that is after RC1. This will place the copy after RC1 in the V Planner workbook.
Repeat actions 1 through 4 until you have as many copies as you need.
Donna Young
Updated
About the V-Planner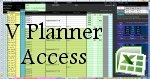 The V Planner is a spreadsheet file in xls and xlsx format. To use the file, you must have Microsoft Excel on your computer. The V Planner is available from YoungMinds web site. YoungMinds is online via a subscription and on Donna Young's Site-CD.