Setup Step Three - Terms
V Planner 4.2, High School V Planner V4.2, and Homeschool Lesson Planner V4 are ready for use. Download from the Member's area.

Setting up grading terms is easy with V3 and there is a video online that goes over the setup as well as the steps to take to change the settings to add an additional grading term. I will link the video below; unfortunately the videos will not fit on the cd-rom.
Term Date Setup
(Completed at Step One) Select the quantity of grading terms, sometimes called grading periods, at the Data worksheet.
(Completed at Step One) Select which term begins the second semester. This setting affects the split S-Sheets at Data worksheet.
(Completed at Step Two) Set up the school calendar at the Days worksheet.
Go to the Terms worksheet and select the beginning date for each grading term from the long and tedious drop-down lists.
Only select dates for "active terms." An active term has a number assigned to it. The number is to the left of the drop-down lists. See image below.
For V3, select term dates for each child.
Dates selected must be a school date.
The video is online at:
../v-planner/vp-vid-v3-terms.htm

Donna Young
Updated
About the V-Planner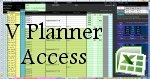 The V Planner is a spreadsheet file in xls and xlsx format. To use the file, you must have Microsoft Excel on your computer. The V Planner is available from YoungMinds web site. YoungMinds is online via a subscription and on Donna Young's Site-CD.