The Calendar worksheet is a personal calendar and entirely optional to use. If you do decide to use it, be sure the date is correct before entering dated events. Please do not change the date after entering dated events because if you do, all of the dated events will be on the wrong date.
If you decide not to use the Calendar, please do not delete it, you may, instead, either hide it (Excel 2007+) or move it to the end of the workbook.
Calendar Date is Set at Data
The beginning date for Calendar is set at the Data worksheet at cell B23. I recommend that you set the date to start in the same month that school starts. If the date is set months before school starts, then the Calendar might run out of dates. Calendar supplies 395 continuous dates for events.

How the Calendar is Used at V Planner
If you decide to use the personal calendar then it would be a good idea to know where the events are sent. If you know how the events placed in the Calendar are picked up at the various worksheets, then you can use the calendar to your advantage.

Your Events – AM, PM, and Menu are sent to
Today worksheet – The today worksheet will display dated events for Today, Tomorrow, and a Week from Today.
7-Day worksheet – The 7-day worksheet will display your dated events for the week that you select at the top of the worksheet.
Lesson Planners – AU and ALLBlock will count your events and let you know if you have any, but it doesn't list your events.
Your Children's Dated Events are sent to
The Lesson Planners
The Today worksheet
The Sticky Note
The sticky note appears on the Today worksheet. The note is changed at the Calendar worksheet in cell B2.

Entering Events at the Calendar Worksheet
Enter events, one per line.
Points to remember that apply to all input-
Formatting, such as red or bold text does not carry over to the worksheets that pick up the events.
Line-breaks do not carry over into the worksheets that pick up the events.
Special characters such as boxes will not look like boxes in the worksheets that pick up the events.
The Calendar at the High School V Planner
Because the High School V Planner is designed for one student for four years, the calendar worksheet is a little different. I have included screen shots below of the two different Calendar worksheets. Click on the image to see full size.
V Planner Calendar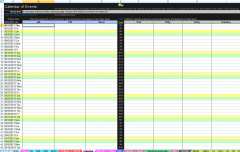 High School V Planner Calendar