Half-sized Dated Planner
These files are designed to be used in a Half-Sized Binder, sometimes this size is called Desk Size Binder. The pages in this binder size measure 5 1/2 inches X 8 1/2 inches.
How to make a personal half-sized household planner with these printable files.
The 29 files linked below will make a basic twelve month dated block planner that includes optional extra December pages, a matching ruled paper file, and a back for the 12-month calendars. Printing all 29 files requires 15 sheets of regular sized printer paper, uncut.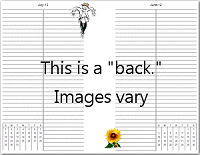 Instructions:
1. Choose a month and print it on full sized printer paper.
2. Reload the paper and print its companion back.
After printing the fronts and backs, cut the paper in half so that it measures 5.5" x 8.5". Hole punch binder holes along the cut edges in the right places to fit into your half-sized binder.
Complete your planner with other pages. Browse the links in the bottom row of the menu above.
Matching Ruled Paper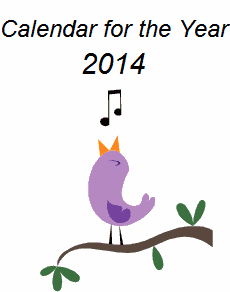 The cover page for 2014
If you prefer no image use this file: 2014 cover sheet without an image
Do You Need the 2013 Planner?
XLS Block Calendar
Printing the planner is easy, but if you prefer to have a customized planner and if you have Microsoft excel, please see the

Excel Block Planner (bottom of page).
[It is just another option.]
The excel block planner does not include the backs. You can choose to print the backs that I have provided on this page or use something else from the menu at the top of this page. I believe there are suggestions on the excel block planner page.