DN Style Handwriting Practice
The Basic Layout of the Printable Lessons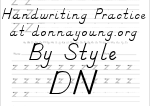 Two Sets: Set One has a 1/2 inch rule height. Set Two has a 3/8 inch rule height.
Layout: There are two lessons on each printable worksheet. Each lesson in Set One, the 1/2 inch rule height set, involves both tracing and writing using a starting dot for each letter. Set Two, the 3/8 inch height rule set does not have a starting dot for the "write-your-own" parts of the lessons.
Skip to: Set One | Set Two | Blank Lesson Paper
The Files
Set One
The first set has a rule height is approximately 1/2 of an inch tall. There are three parts in this set. Letter practice, number practice, and dolch word practice.
Dolch Words used in Set 1
am, an, as, at, be, by, do, go, he, if, in, is, it, me, my, no, of, on, or, so, to, up, us, we, all, and, any, are, ask, ate, big, but, buy, can, cut, did, eat, fly, for, get, got, had, has, her, him, his, hot, how, its, let, may, new, not, now, off, old, one, our, out, own, put, ran, red, run, saw, say, see, she, six, ten, the, too, try, two, use, was, who, why, yes, you, away, been, blue, both, call, came, cold, come, does, done, down, draw, fall, find, five, four, from, full, gave, give, goes, good, grow, have, help, here, hold, hurt, into, jump, just, keep, kind, know, like, live, long, look, made, make, many, much, must, once, only, open, over, pick, play, pull, read, ride, said, show, sing, some, soon, stop, take, tell, that, them, then, they, this, upon, very, walk, want, warm, wash, well, went, were, what, when, will, wish, with
Letter Practice
Each file has two lessons -
The top part is uppercase letter practice and the bottom part is lowercase letter practice.
Aa | Bb | Cc | Dd | Ee | Ff | Gg | Hh | Ii | Jj | Kk | Ll | Mm | Nn | Oo | Pp | Qq | Rr | Ss | Tt | Uu | Vv | Ww | Xx | Yy | Zz
Number Practice
Numbers:
1, 2
3, 4
5, 6
7, 8
9, 10
Dolch Words Practice
Dolch Words up to Four Characters
Set Two
Set Two practices writing words that are grouped by sound. Each lesson features seven words or, sometimes, 6 words and one sentence. Each pages has two lessons.
Short a #1 am, an, as, at, ax, rat, A rat sat on that hat., sat, cat, fat, bat, mat, pat, A cat sat on a mat.
Short a #2 bad, mad, pad, sad, gad, lad, tad, sap, gap, bag, gag, hag, lag, tag
Short a #3 ban, can, fan, pan, ran, tan, van, cap, map, nap, rap, jam, ham, Pam
Short e #1 bed, led, red, wed, beg, fed, Ed, Ted, hen, den, Ken, men, pen, ten, Ten hen were in a pen.
Short e #2 jet, let, met, net, pet, set, yet, fell, bell, sell, nest, zest, test, The bell fell. Test the bell.
Short e #3 pest, rest, jest, best, lest, west, zest, tent, rent, sent, went, felt, pelt, melt
Short i #1 if, it, is, bit, hit, sit, It is a hit! Please sit., rid, lid, sip, tip, nip, lip, The lid is bent.
Short i #2 him, rim, fix, six, din, pin, tin, dig, fig, big, pig, jig, rig, The big rig is hauling figs.
Short o #1 on, ox, got, cot, jot, lot, The ox left the lot., job, nod, pod, rod, log, hog, dog
Short o #2 box, fox, hop, mop, sop, pop, top, dot, jot, lot, pot, rot, not, This is not a lot.
Short u #1 up, us, cub, hub, rub, bud, mud, dug, mug, tug, jug, bug, sum, drum
Short u #2 bun, run, sun, rut, hung, rung, sung, bulk, hulk, gush, rush, dust, must, rust
Printable Handwriting Paper that Coordinates with The DN Handwriting Lessons
For more choices in handwriting paper see: Free Printable Handwriting Paper
3/8 Inch Rule

Blank Top
3/8 Inch Rule

Two Lessons
1/2 Inch Rule

Blank Top
1/2 Inch Rule

Two Lessons
Print, cut apart, attach to student's notebooks
April 25, 2012, Donna Young