Using this list is optional and to help you decide if you want to use it or not, you need to know how it is used. — When a class is noted as having been taken outside the home, the class will be marked as such on certain Reports. Additionally, a key noting the mark and location will appear on certain Reports.
Important –
V Planner V4 – A Location List is on each of the 4 Data# worksheets (Data1, Data2, Data3, Data4).
High School V Planner V4 – There is one location list and it is on the Data worksheet.
How to Use the Location List
Instructions are for V Planner V4

Each year or student will have up to 5 different location slots on the setup worksheets. To use the location feature do the following.
Column G – Type a unique location into the first empty cell in the location list
Column F – To the left of the location, select a unique number from the drop-down list
Column E will show you the result of the number that you selected
In the Class area of set-up – If the class was taken outside of the home, select the location from the drop-down list that appears in column F.
That is all.
The High School V Planner V4
The location list is on the Data worksheet [Screenshot of the High School Data Worksheet ], below is a screenshot. Setting up the location list is simple – enter the location, then select a key number.
Important Point – This list is to be used for the student's four years of high school, so don't delete a location that is in-use. If you need to delete a location, be sure to "unselect" it where it is used at a Data# worksheet.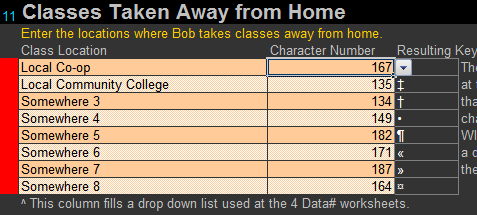 Editing the Numbers for the Location List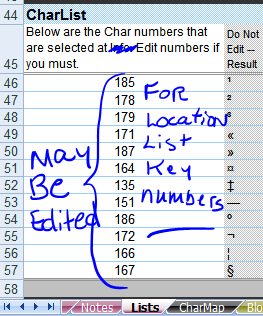 The numbers in column F are from the Character Set. The V Planner includes a worksheet called CharMap, and there, you can see the character/number association. If the characters that appear in column E are not satisfactory, you can look for characters that you prefer at the CharMap. Find the characters, note the number and at the Lists worksheet, you may edit the numbers by replacing the unsatisfactory numbers with the ones that you chose at CharMap.
Summary
Find new numbers at CharMap.
Edit the Numbers at the Lists worksheet.
Return to the location list and choose the new numbers from the drop-down list in column F