How books are entered is different in V4 planners and there are several groups of cells into which books are entered. First is the large table for classes that use an S-Sheet. Another table is for books which are not attached to any class. Last are several tables that are for books used in "Other Courses", you'll be glad to know that these tables are automatically labeled with the class name.
Books for Classes – Columns A, B, and C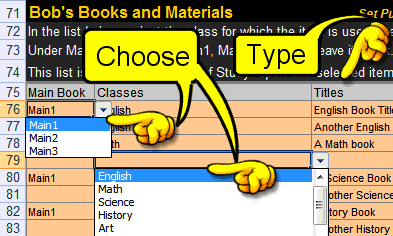 Beginning at row 76 in columns A, B, and C, books are entered for classes, specifically, classes that use an S-Sheet are classified and entered here.
To use this section, you need to know the impact of choosing Main1, Main2, or Main3 in column A.
Under Main Book in column A each book may be classified as a "Main Book" or the book can remain unclassified. When books are classified as Main1, 2, or 3, they will be displayed at the S-Sheets
Books classified as Main1, Main2, or Main3 will be displayed at the S-Sheets
At the COS worksheet (course of study) "main" books appear on the first line for each class while unclassified books will appear on the second line for each class
In High School V Planner V4 on the PR-Courses, books will be displayed one after another in line with punctuation separating each title.
Punctuation that is displayed between titles is set at Cell E71 on Data1, Data2, Data3, and Data4. The setting in E71 is the one that matters – there is another setting in Cell F71, which is used by the reading list titles, but a punctuated list of reading titles is not used in any of the printable reports.
RULE 1-
Each class can have one each of
Main1, Main2, or Main3. If you accidentally select 2 Main1 titles for a class, the second one will be ignored. The GIZMO at cell H75 checks whether or not multiple same-Main# books are selected and it lets you know.
RULE 2-
Although there is not enough room for 300 class books, each class has a limit of 30 books. A formula will let you know when this limit is reached.
Entering Books for Classes
Now that you know what Main1, Main2, or Main3 does and the rules, you can enter titles for the classes that use S-Sheets. To do that do the following —
Column A – If the title is a "Main" book, select which Main# book that it is – You can come back later and change which books are "Main"
Column B – Select a class from the drop-down list.
Note-
If you edit the class names in rows 40-56 after doing this, then you will have to return to the book lists area and select the class names again, so make sure the "Formal Class Names" in rows 40-56 are what they should be before filling in the book lists
Column C – Enter the title.
Note- Column C is a little narrow and this is just a heads-up, if you accidentally place your cursor in Column D, you won't be able to type, so make sure that you place your cursor in column C.
Entering a Reading List
Beginning at Cell H118, up to 30 reading books may be entered. The reading books are displayed at the bottom of the COS worksheet (course of study).
Enter Books for Other Courses
Each "Other Courses" class has a space of its own under the reading list. You'll know where to place the books by the class name that is displayed in the header of each "box". Up to 7 books may be entered for each "Other Course." These books are displayed at the Course of Study worksheet.
Enter the book titles in order of importance because the first 3 are treated as "main" books and the rest are treated as "unclassified" books at the COS worksheet. If you do not want 3 titles in the top row, then skip the 3rd cell when entering titles.
The Book Checker
In case you need to see a list of titles for a certain class, I included a gizmo that will allow you to do that. To use the book checker, select the class in the drop-down list that is in Cell H75 and the gizmo will display all of the titles for that class. If the title is one of the main books, it will show you that information too. The book checker will tell you if more than one title has the same main classification.