While setting up the planner, you will come across this question. "The date that school is completed –>"
The date cannot be typed into the cell. The date will appear, and it will automatically update, when the school calendar is set-up at the Days worksheet.
The last "X"ed date at Days will be the "The date that school is completed"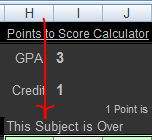 The dates, including the last date affects a display in cell H7 in the S-sheets. Cell H7 will display which term the student is currently in and if the subject is over. Knowing the term is useful when selecting the term at the Dynamic Term Average Record on the S-sheets. Of course, H7 isn't the only way to know, it is just another way to know which term is current.