V Planner 44 Beta Version
A screenshot of one of the planners in the file.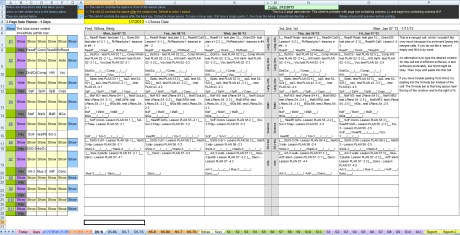 This is to announce a new V Planner. It is different from the other ones in several ways.
1. It supports shared classes. These types of classes are sometimes referred to as "together classes"
2. It uses keys to distinguish items in the planners
3. The grade book is not included on the s-sheets, instead, the grade book is separate. The separation was necessary to support "together classes"
4. 11 S-Sheets allows for 44 subjects
5. Grade book allows for 88 subjects
6. Book lists are included on planners as "keys" on the student planners
7. On the teacher's block planners, the books are listed with full titles
The planner is currently considered Beta, and not final. It is also filled with sample data. I am releasing the file to you now so that you may look at the file and try it out to see if it is one that you would like to use. The sample data is currently set up with a 3-child scenario using 25 subjects, 11 of which are shared, and 1 is used to schedule a dance class, and using 43 grading areas in the grader. Another reason for the sample data is that I have not written help pages and seeing how to use the V Planner 44 should be easier with sample data. I hope to get help pages and some videos made in the next few months. Meanwhile I have to work on the other two V Planners – V Planner 3 and High School V Planner.
The file may be accessed on the V Planner page that is online in the membership area. The member link is at
http://donnayoung.org/dymem/member/index
Go to the "V Planner Access" link that is listed under "Active Resources."
I will let you know when V Planner 44 is no longer Beta. Feel free to contact me regarding the planner with the form on the V Planner page. — Edit- I regret to announce that for lack of time, this file will never be out of BETA, use at your own risk.
Thank you for reading.
Sincerely,
Donna Young