AUC3 – Column 3 Plus Scores
AUC3 displays the contents of lesson plan column 3 from the S-Sheets plus the student's running scores for semesters 1 and 2. It is controlled by AU lesson planner and once the date is set at AU, AUC3 is complete.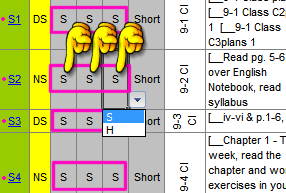 AUC3's most logical purpose is to serve as your teacher's planner. To do that, you would enter your teacher's notes in the 3rd lesson plan column while entering the student's plans in columns 1 and 2 that is at the s-sheets. THEN, you'd hide column 3 from the student's lesson planners using the show/hide (S/H) drop-down list that is at each of the lesson planners.
Certainly, using AUC3 is optional, but it is here is you need it.


Click to see full size image
To use AUC3 –
Select the date at AU.
Adjust the row height if needed.
If printing, be sure to check print preview before printing.
That's it.
If you have not read about AU and how to use it, see this page: V Planner's Awesome AU Lesson Planner – High School Edition
Next Read about the AU controlled printable lesson planners – AUD, AUB, and AUC3