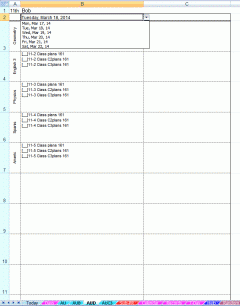 AUD – a Daily Lesson Planner
AUD is a daily lesson planner that is printable. It is controlled by AU lesson planner.
To use AUD –
Select the date at AU.
Select a day of the week in cell B2 at AUD.
Adjust the row height if needed.
You may type further instructions for your student in column C.
Be sure to check print preview before printing.
That's it.
If you have not read about AU and how to use it, see this page: V Planner's Awesome AU Lesson Planner – High School Edition
Next Read about the AU controlled printable lesson planners – AUD, AUB, and AUC3