The worksheet named Plan is in the High School V Planner. Plan is a gizmo and does not impact V Planner's functions, so it is of little importance and not supported.
With the Plan worksheet, you can
Part One – Enter the number of credits required by your state
Part Two – Lay out the classes for the four years of high school
Part Three – Visit the worksheet yearly to see if the plan is going well
The Plan worksheet REQUIRES the use of COURSE CATEGORIES and those may be edited at the Lists worksheet.
How To Use Plan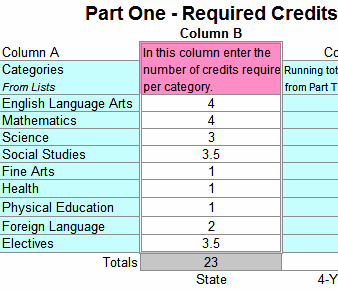 First you will need to know your state's graduation requirements, what subject cateories that the state uses and how many credits per category. Find this information from your state – I've compiled some links at this page Graduation Requirements State Link, or you can find out from another reliable source.
Part One – The state requirements
If the list of categories do not match or are not close enough to your state's categories, then go to the Lists worksheet and make changes to the category list. When that is done, return to the Plan worksheet and enter the number of credits for each category into Column B.
Part Two – The 4-Year Plan

In this part, select categories, enter a class name, and enter a credit. Please know that entering a class name is not required, you can skip over the class names, but you do need to select a category and a credit. Do this for each school year. In making this 4-year plan, you will see how the class load is for your student. While you are filling out Part Two, some calculations will occur in Part One that tell you when all required credits are slotted.
Part Three – How it is going so far
Nothing is done at Part 3; it is all automatic. Part 3 requires that categories are selected when classes are set up at the various Data# worksheets.
Screenshot of the Plan worksheet
If the image is too compressed to see, click on the image for a larger view.