The Data Worksheet is the first worksheet to fill in when setting up the V Planner. Read more about setup at – Setup Step One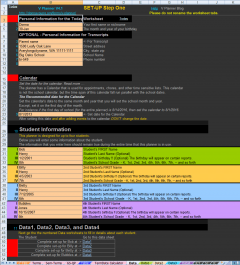 For V Planner V4, I split the Data worksheet into 5 different worksheets. They are named- Data, Data1, Data2, Data3, and Data4. When making the V4 planner, I tried to make the setup a little easier. To do that I kept the general information on the Data worksheet, pictured below, and placed the individual student information on four data worksheets – each one for (up to) each of the four students.
A Full Sized Screenshot of Data
Click on this, or the image that is on the right, to access a full sized screenshot of the Data worksheet. The screenshot shows the entire Data worksheet and as you can see, it is rather short.
The High School V Planner Data worksheet is a little different, so if you are looking for information about that data sheet go to: High School V Planner Data Worksheet.
Filling in Data
Filling in the data worksheet is really easy and I don't expect anyone to have any trouble with it; however, Setup Step One has all the information that you need.
After Filling in Data
In my efforts to help you without being there, I added a table at the bottom of the Data worksheet that tells you which of the numbered Data worksheets should be filled in. The table also tells you for which child the data worksheet is to be used.