The Course of Study Worksheet displays the each child's grade, list of classes, which term the class is conducted, books for each class, and the list of extra books. See Tip below to find out how to display additional information for each child.
The Course of Study (COS) is easy enough to use. Simply fill in the information at a Data# worksheet (see Set-up Data 1, 2 ,3 ,4) and return to COS.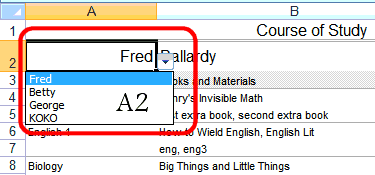 To use COS do the following:
Select the student's name from the list in cell A2. Information will fill in.
Adjust the row heights if they are not displaying everything.
Less important drop-down lists
A second drop down is in cell A3
Another drop down list is in cell A36
Printing – Check print preview before printing the COS
Rows that contain the class book titles are set to wrap, but it is likely that the rows will not automatically lengthen to display wrapped content. If content is not displaying fully, lengthen the the height of the rows.
Tip I
If you want to add more course of study related information about the child and if you are not using all 30 extra book slots at Data#, then I recommend adding the related information about the child at Data# in the first and following available empty extra book cells. When information about a child is added in this way, then the information is with the child's course of study record and will populate the Course of Study worksheet when the child's name is selected. This is much better than typing in the COS worksheet.
A Caveat: Cells containing the list of additional books do not wrap, nor are they merged. This is good for the list of additional books, usually, but not for a long string of text. S., if you would like to use the empty additional book cells to add Child-specific Course of Study related information, do so, but enter the text like this:
Type in a string of text that you believe will occupy a page width,
View COS and print preview to make sure the text is neither too long or too short.
If the length of the text is okay,
Press enter and
Type another string of text of the correct length in the next cell,
And continue in this way until finished.
Tip II
While Tip I is okay, it is not without its challenges. A second way to have personal information that does not have to be removed is to make a copy of COS, one for each child, and set the copies up to be for a certain child. Making copies of worksheets is very easy – read how here – V Planner- How and Why to Copy a Worksheet
After making copies for each child-
Optional-Rename the copied worksheets at the Tabs, not the original COS
Decide which Copied COS is for which child and set the name drop-down accordingly
Additional information for each child may be entered at row 100
When typing, pay attention to the width
TIP- To see where "page" margins are, open and then close print preview
If you need them, add more rows before you get to row 106. Row 106 is the last open row for typing.
TIP- Rows may be added to COS anywhere between rows 100 and 106