PR-S stands for Print any Subject Sheet. Read how to use the PR-S worksheet.
PR-S is very easy to use, just select the s-sheet from a drop-down list that is in the upper left hand side of the worksheet. Once that is done, the information from that s-sheet will fill in.
PR-S handles split s-sheets a bit awkwardly, but guess what? – I'm not a perfectionist.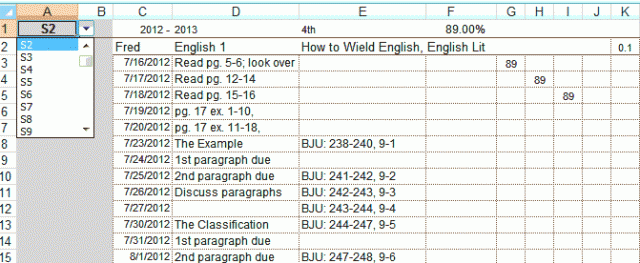 The following is a reprint of the contents on PR-S
This sheet can be printed. It displays lesson plans, dates, and grades, but not grade averages for terms; only the final grade is displayed.
The printable information is in cells C1 through K293
Currently the printable area is set at C3:K293 and the top two rows are set to print on every page.
The printable area is formatted with gray lines to mark columns and rows.
Columns D – F – the columns for lessons plans are set to wrap.
The data in those rows will need to be expanded to fit the content if they did not do so automatically, and I doubt that they will.
To change row height to fit contents:
Double-click the boundary below the row heading.
To Use This Sheet
In cell A1, select the "S" sheet from the drop down list.
The content from the sheet will fill in the cells.
Row height might need to be adjusted before printing.
Columns Displayed – Date; Lesson plan columns 1, 2, 3; the Grades, and points.
If you do not want to print all of the columns that are displayed, hide unwanted columns and adjust remaining columns to better fit the page width.
Check Print Preview to see how the sheet will print.
Look at how many pages it will use. Look through the pages with the next button to see how each
page looks. If everything looks okay, then print the pages that have actual data. For instance, if only the first 3 pages have data print only the first 3 pages. To do that, use the printer setting to print pages 1,2,3 or 1-3
You may right-click any column header to Hide the entire column.
Empty rows that are in the middle of the "Split" S-Sheets may be hidden in the same manner —
Right-click the row heading and select Hide.
The Split S-Sheets are treated rather awkwardly by PR-S
If a second semester class, book, and grade are available to display those items will display in column D without any special formatting. They just appear in the ruled area as if they were lesson plans. Sometimes, I have to "not mind" if something isn't perfect – This is one of those times.