Take Advantage of Excel's Linear Series Fill to Quickly Add a Certain Type of Lesson Plans (3:27 min)
This tip is useful when using curricula that lists daily lessons in an orderly manner such as – Lesson 1, Lesson 2, Lesson 3, …
In this video certain cells are selected, the lower right corner for the group of cells is clicked and held on the PLUS-shaped icon, and the selection is pulled down over as many cells as needed. This action will FILL cells. This is not the same as dragging cell content from one cell to another.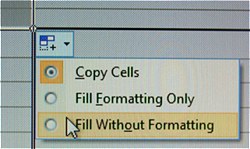 AFTER completing the FILL, be certain to click on the icon that should be in the right corner of the filled area and choose: Fill without formatting
Important Note: Filling cells in this way WILL overwrite anything in the cells that you fill over.
Please Note These Two Points about Preserving the Formulas and Formatting in the V Planner – Dragging Cells and Copying and Pasting
Dragging Cells:
Do not select and drag any part of the V Planner to another part of the V Planner. The "dragging" that the video shows is different, it is not moving cells, it is filling cells.
Dragging parts of the V Planner to other parts, even just a few cells over or down, can cause important formulas to change, so please do not select and drag anything in the V Planner. Copy and paste instead – more on that next
Copy and Paste through a Text Editor:
The SAFEST way to copy and paste is to go through a text editor. Computers typically are loaded with text editor software. The text editor in Windows is called Notepad and can be accessed through these steps:
> Start > All Programs > Accessories > NotepadCopying from a true text editor will not affect the color formatting in your planner.
Tip: While the lesson plans are in the text editor, save the file. Be sure it saves with the ".txt" extension. The saved plans can serve as a backup for the plans and can be used for another child who uses the same book(s) in the future.
Copy and Paste inside V Planner:
The EASIEST way to copy and paste is to simply copy what you want to copy and then paste it where you want to paste it in the V Planner. Please be aware that doing this can change color formatting. To preserve the color formatting always take the extra two seconds and click on the little icon that appears in the lower right corner of the pasted area and select Match Destination Formatting