A term number can disappear from the column of term numbers on the S-Sheets during the school year if the school dates are altered at Days. It is okay to alter school dates, but be aware that the school date list impacts everything school date related and a mid-year change could have an effect on term dates but, more likely, nothing will be affected. There are only a few dates that this could happen to, but it can happen, and that's the reason for this information page.
If you see a missing term number (see image below), don't panic, do this instead–> check two worksheets – Terms and Days. A term number disappears when a date that is selected as a Term date is unmarked as a school date at Days.
Fix the problem by either-
Adjust the term date in the drop-down list at the Terms Worksheet (preferred)
X'ing the date that was previously removed. The first option is usually better if a date was demoted to an off-day for a reason.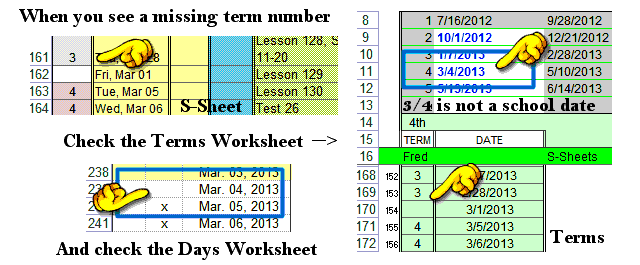 More about Term Number Dates
Setup: Step Three – Terms