The Term Averager exists only because I thought that some might need to know the combined averages for certain school terms. I might have needed to have this information in order to compile my semester averages.
For Instance-
I was required to turn in semester grades and attendance. Had I made the V Planner early enough for me to have used it and had I set up MORE school terms than just 2, then I would use the Term Averager to get the totals for the 1st and, later, the 2nd semester.
Aside- The reports in the newer V Planners make the Term Averager less necessary, but I left it in just in case.
Images of a Scenario-
Example- I've set up 4 School Terms (Quarterly). I have to report data for 2 school terms (per Semester)
The first image shows the data totals and grade average for School Terms 1 and 2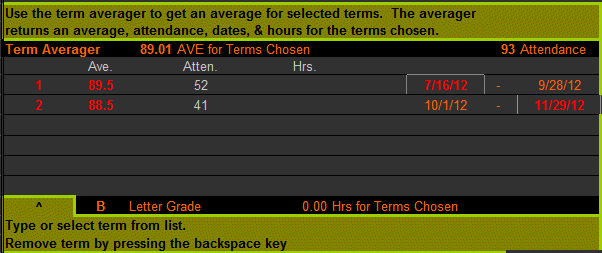 The second image shows data totals and grade average for School Terms 3 and 4.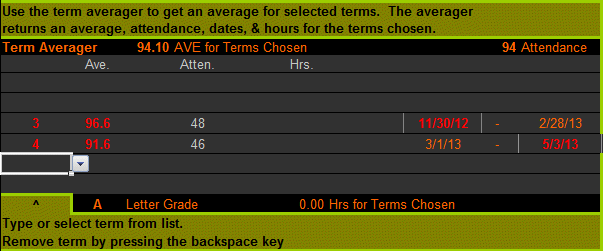 Scenario- – I would take the information shown here and enter it into the form that I had to fill out for my "cover school" (or the outside entity, if one exists, that requires this information). I'd mail the form and my "reporting" work would be finished for the semester.
Sadly, I hadn't made the V Planner in time for me to use it, but I did have an unusable prototype at the time. Instead I used G&A, which is a spreadsheet that I had made for myself to lighten my reporting workload; G&A doesn't have a feature like this Averager.