Donna Young's Half-Sized Printable Refills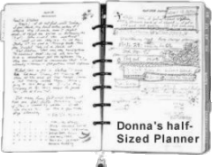 The Desk Size, also called half-sized, planner book refills are designed for personal organizers that use 5.5" x 8.5" paper. I made the files so that the pages are printed on a full sized sheet of printer paper and then cut in half.
Where are the Files? The refills can be printed from the pages that are linked in the 3rd row of the Blue menu above. And just to make sure you can find the pages, here is the menu again:
Calendars | Cover | Dated Block | Block | Ruled | Paper | Kitchen | At Home | Telephone | Timer
Printing & Cutting: Basic Instructions
Use your full sized (8.5" x 11") printing paper to print my half-sized planner refill files. Print on one side of the paper, reload the paper, and then print the other side. I recommend using at least 28-lb paper. Why? 28lb. paper is nice because what is printed on the back usually does not show through on the front.
Once you have printed both sides, fold the paper in half. Cut the paper in half along the fold line. Get a used sheet from your planner book, place it on top of the papers that are cut in half, line up the cut edge with the , top, and bottom edge. With a hole-puncher, punch the ring binder holes.
The dated 2024 Half-Sized Block Planner refills are ready and uploaded. These files are designed to be printed on a regular sized printer paper, then cut in half.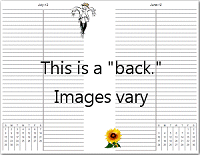 Each month includes two printable files that are to be printed back-to-back: a classic dated block planner and a list-type planner that includes a small dated calendar.
NOTE: There are no images in this year's planner.
---
Three of the Pages in Half-Sized Refills
It is kind of hard to have a personal organizer without a current calendar. I have them and you may print them.
I have the style shown here as well as a flip side version and a ruled 2-page version. I usually have last year's calendar, this year's calendar, and next year's calendar on the website. If I don't, you can contact me via the feedback form if it is open. The calendars change on January 1st of each year. If you need calendars a few years ahead, then get my Site-CD, YoungMinds. The calendars for most of the half-sized planners date all the way to 2025!
---
Because I am tired of the old ruled planner, I'm adding a new ruled planner online. This one is dated and ready to print, no need to write the month and year.
You will also find two ruled refills called "Tiny I & Tiny II." Even though they have a calendar on them, you have to choose the planner based on two criteria, and that is explained on the ruled planner refill page.