As of Friday night August 1, 2014, donnayoung.org, including the subscription website, is "Mobile Friendly". Below is a  blurry photograph of my newly purchased Kindle Fire and smartphone; items that I bought to check my progress in this mobile-friendly-website project.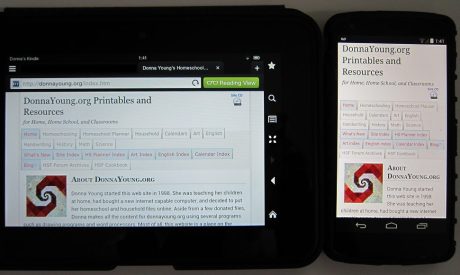 Prior to August 1, I was going from page to page, about 10 pages a day, to make sure that the new design did not break parts of the pages, but I gave up on that. As of today, donnayoung.org contains 6,776 web pages and at less than 10 pages a day, it would take about 2 years to complete this project.  There is a point in which a person says, "Let the chips fall where they may." and then she uploads the new css for the entire website, all 6776 pages. That's my story. When I spot unruly web page elements, or if someone writes me to tell me that ""Such and such" page is awful, please fix", I will fix pages at that point. Meanwhile, I have bigger website related fish to fry.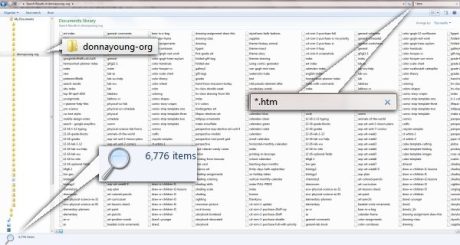 Responsive Web Design
I used Responsive Web Design to make donnayoung.org mobile-friendly. Responsive Web Design is a design strategy with the goal that the website pages are readable and useable with little to no panning or scaling when viewed from small devices such as smartphones to large desktop monitors. Additionally, there is no separate "mobile site"; responsive web design is typically applied to the one website being made mobile friendly. This is good because the webmaster will not have to maintain a separate mobile website. This is great for me because I do not want to make time for additional website-administrative work.
Some Updated Pages
While going from page to page, editing, I updated a few pages because, let's face it, I was homeschooling when I wrote many of these pages and I was always in a rush.
The Planner Guide – The home page for the homeschool planner guide – I edited this page just a little, added graphics.
I edited the two pages below as well as a few others, but ladies, I have forgotten which ones. I'll link these two pages and let it go.
The Weekly Homeschool Planner Book The pros and cons of the weekly homeschool planner book and the forms that one might use
About the Homeschool Subject Planner The pros and cons of the subject homeschool planner book and the forms that one might use
Thank you for reading!