For the longest, Portfolio X Lesson Planner, my homeschool planner generator, was incompatible with the Chrome browser!
For two or three years, I had a notice on the page telling visitors that the lesson planner generator wouldn't work with Chrome. Very sad thing.
I didn't like having to do that. I use Chrome and I like Chrome.
Meanwhile the Chrome browser became more and more popular and the generator not being compatible bugged me when I thought about it.
So, recently, or a few months ago, I looked into the Portfolio X files again in an attempt to make them compatible.
AND I FIXED IT!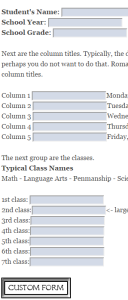 This is just to say that the Portfolio X homeschool planner generator now works with Chrome browser as well as the other two browsers that it always worked with.
If you are unfamiliar with Portfolio X, go to this link and see what it is: Portfolio X Lesson Homeschool Planner.
To describe it briefly, Portfolio X Lesson Planner page contains some fields. I took a screenshot of the fields and added the picture on this page. What YOU do it fill in the fields and press the custom form button. The page has a lot of information on it below the fields and you should probably scroll down the page and read about the two different Portfolio X planners.
After pressing the Custom Form button you are taken to the next page and from there you can download either the Portfolio X planner or the Portfolio X Subject Planner — or you can download both before you leave the page.

What you get is an RTF file that is prefilled with the information that you entered into the fields. The RTF file will open in several types of word processors, so chances are you have something on your computer that will open it.
What's Next?
Open the file and use it!
Look it over to make sure everything was added to all of the pages.
Finish the cover sheet.
Add clipart if you want, or a background image.
Decide which pages to print and how many of them.
Choose a calendar to add to your planner from my Calendars
Put it all together in a binder and use it!