The worksheets on the web page, Color Names, are all about color words or names. The page is located in the art section at donnayoung.org. I am posting this update so that the content will be easier to find.
The Color Names web page contains a few printable worksheets for young children who are learning to recognize color names. Below are file groups and descriptions.
Trace Color Names, Trace & Color Shapes
Each file prints in color. Each file has one shape in a color. That color and shape is written around the shape. Student traces, colors, and writes.
Young Child's First Color Wheel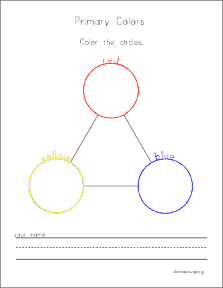 Simplistic color wheel, it's not even called a color wheel. The terms used are primary colors, secondary colors, cool and warm colors. Student colors the circles as implied on the worksheet. Three files below.
Coloring and Writing a Color Name
The Crayon worksheet
There are two crayons on each printout. Cut the paper in half after printing or when you decide to use one.
Circle the Right Word
A test-like printable where the child circles the name of the correct color.
These files may be printed from Color Names: Tracing, Coloring, Writing