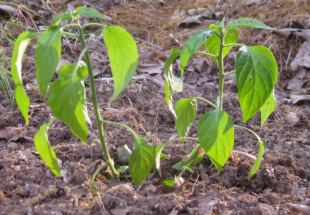 The temperatures where I live have been getting rather low at night, too low for peppers, maybe. While outside today, I noticed that two of my peppers are droopy. While I can't say with certainty that the cooler temperature is making them droop, I can at least do something about that if it is the temperature.
The picture above shows my pair of serrano chile peppers. They are the droopy ones.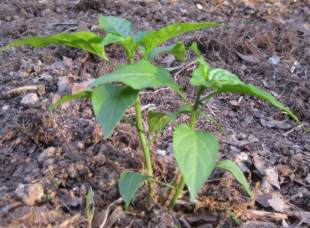 To the right is a photo of my pair of jalapeno pepper plants. They are not droopy at all. Perhaps they tolerate lower temperatures?
Now I am going to mention cloches. I used to want, very much, thick glass bell garden cloches, but many circumstances kept me from getting them. I have always settled for ordinary items to use as a cloche, such as clear or almost clear plastic containers such as kitty litter jugs or large jars. Both of my kitty litter jugs are in use protecting young tomato seedlings and that means that I have to use two large pickle jars. I didn't want to use the jars, because typically, I store rice in the jars. Tonight, the temperatures might dip into the 30's, so protecting the peppers seems like a good idea. The picture below shows the pickle jar in place over the serrano chile pepper plants.

The jar should serve as a decent cloche and keep the peppers from getting too chilly tonight, but and this is important, I must remember to remove the jar before noon if the temperature is high enough. The jar does not have ventilation and the inside of the jar could get too hot.
Points to remember when using jars as cloches:
There is no ventilation- they can get too hot.
The jars are fragile- some will break easily.
The mouth is usually on the small side.
======
Edit: Later I discovered that these peppers were droopy because of a fungus.