As of today, this is my teen daughter's favorite lunch.
1 teaspoon olive oil
1/2 cup brown rice, raw
2 ounces sirloin, trimmed and chopped, raw
1 1/2 cup hot water
1 beef bouillon cube
Pinch of thyme
Pinch of garlic powder (small sprinkle)
1 1/2 cups romaine lettuce
One small grated carrot
1 tablespoon grated Parmesan cheese
4 teaspoons Kraft Classic Caesar salad dressing (selected because has 0g of sugar)
Dash of salt
1 ounce almonds
4 teaspoons sour cream
2 cups tomato juice (!note, this adds vitamin c, but also increase sodium by around 750 mg)
In a 10 inch heavy-bottom frying pan, add: olive oil and brown rice. Turn heat on stove to medium and fry the rice until it is getting close to a golden color. Add the beef. Continue to fry the rice and beef. Watch the rice, it burns easily! When the rice is golden, get the pan's lid. Add the bouillon cube, thyme, garlic, and hot water. NOTE: When adding the water, do it quickly, then cover the pan. Be careful because this will produce a lot of steam. Turn the heat down to medium-low and allow to simmer, covered, for 40 minutes.
Shortly before the rice is done, prepare the salad by adding around 3/4 cup romaine lettuce to each of the two bowls, add the grated carrot, Parmesan cheese, and dressing. When rice is done, taste it, add a dash of salt if needed. Divide the rice into two portions and add each portion to the top of the each salad. Add 1/8 cup almonds and 2 teaspoons sour cream to the top of each salad.
Serve with water and 1 cup of tomato juice. (optional, tomato juice brings vitamin C from 5% to 79%, but adds sugars and salt).
Nutritional Information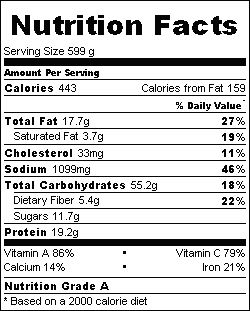 Chart generated by calorie-count.com.
Nutrition grade: A

Good points
High in manganese
High in vitamin A
High in vitamin C
Bad points
High in sodium