Half Style that can be Stored in a Notebook
This particular card was made from two sheets of printer paper. This card can be stored in a notebook (3-ring binder).
Add information about the card along the side where the two papers are joined.
Pictured below is a geosafari card made from two sheets of paper. Instructions follow.
To make this card do that following.
Place two pieces of paper in your Geosafari.
Measure the overlap, it should be around 3 5/8 inches.
Divide that measurement by 2, you can round up to a friendlier number such as 1 7/8"
Mark the measurement along one side on both sheets of paper.
Fold ONE of the papers along the line.
Apply glue to the either of the sheets of paper near the line and out toward the edge of the paper.
Lay the folded sheet on top of the unfolded sheet in such a way that it resembles the image below (the edges are lined up).
After the glue dries, hole punch the card.
Set the card in the unit and make marks next to the lights.
There is no need to trim the height of this card.
The image below shows how only one side is folded. There is no need to fold the other side. You can also see how the two sheets are joined.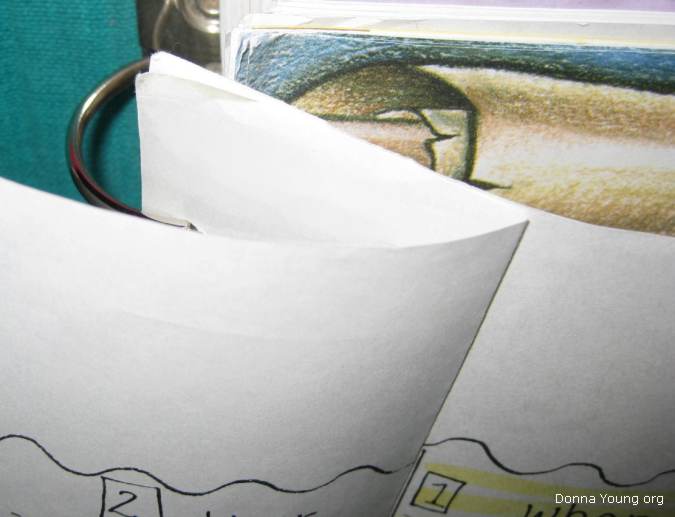 You now have a blank card that can be stored in a 3-ring binder. Any type of lesson can be made on this card, however, a large image that is glued to the middle of the card should be cut in half and then glued to the halves of the card.
You can make a variation of this card with card stock. If using card stock, instead of folding, trim one side of one card. Instead of glue, tape the trimmed card to the line that is marked on the untrimmed card. The tape should act as a hinge.
To see an image of this card go to this page: Multiple Choice, 4 Choices