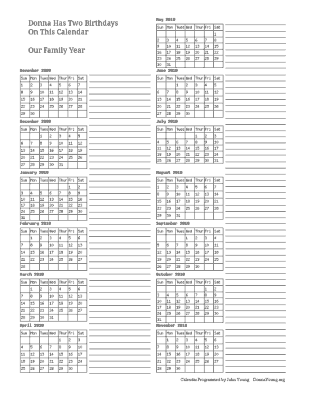 A request was made for a 13-month calendar, but a calendar in which the starting month could be chosen. I have a spreadsheet that does this, but I wanted something different, I wanted a generator. I ask my son, John, if he could make such a thing. I drew a picture showing him the layout. I also asked him to make it so that a header could be custom. He was intrigued by the task and programmed the generator the same evening. And now after a tweak, an adjustment, and a 5-line header addition, it's ready for use.
I tested and printed it with two browsers, IE 7 and Firefox 3.0.#. At the calendar generator web page, I suggest that the calendar should be printed through Print Preview. Do that because otherwise, the calendar might print on two pieces of paper and we can't have that. How to use print preview for IE and Firefox is explained on the generator web page. IE Rendering: When viewing the calendar in IE's print preview, the image looks broken. That is how IE renders a 2-color compressed image – with missing pixels. All of the pixels print despite how it looks in IE's print preview.

You may choose the starting month, the starting year and type a 5-line header or have no header, it is your choice.
I thanked my son several times for his work on this calendar. He is a very busy person, but loves a challenge. He recently completed his first year at a nearby university and that has nothing to do with this, just a mom comment.
The 13-Month Calendar is located at: