A couple of days ago I redid the pages that have geosafari resources. I spread the resources over several pages and I added some images and a few more codes. Additionally, I changed the location of the geosafari pages, but I did leave behind a link at the old address.
Here is the new location and starting page –> GeoSafari Resources
I might work more on the geosafari area or I might not, I just never seem to have enough time to do what I would like to do with my website. While I am writing this and have your attention, I will add something to this blog post that might never make it in my website.
Allow Your Children to Make a GeoSafari Card
It's not outlandish, your child might even ask to make a card if they realize that cards can be made. My daughter made a couple of cards when she was around 6-7 years old. This was during the time that I was still formulating how best to make cards and because my little girl had to find me to hug me every 30 minutes when she was that age, she saw the things that I was doing. She asked to make a card. Pictured below is her first attempt. I helped her when she needed help.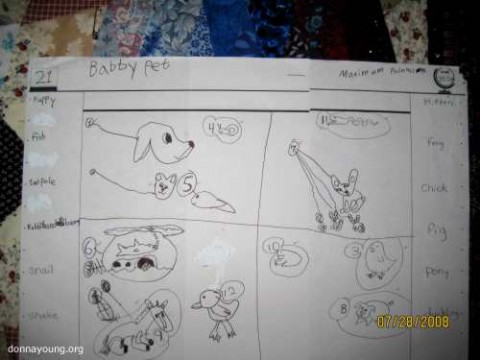 Holly's card, Babby Pet, is a Matching Answers type card. She made a card about the things that she loves. Children can learn a variety of different skills while pursing their interests. Us homeschoolers ALL know, or will eventually know, that is one of the GREAT freedoms that homeschooling allows children.
Attendance Forms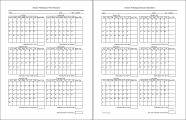 Yesterday I made a new attendance form and added it to my website. It's a nice, plain 2-page form. I have it in PDF format and you can print one that starts in either the month of July or August.
By the way, this is a dated attendance form and having dates on a form like this is always nice.
The Attendance Form is Here: –> Attendance Form
On the Home Front
John is officially going to the university in the nearby city. Last week he went to the 2-day orientation, chose classes, and received his schedule. We are all a bit excited about it!
I am not finished with anything, (I just had to add that). My garden is producing more food than we can eat and that is a good thing, but it keeps me busy. I am also not finished with the quilt that I was working on. I spread it over the table again last weekend and continued pinning it. I bought 300 more pins, but that was not enough. When I took a picture of Holly's card, I pulled back and took a picture of a corner of the quilt. I'm still not sure when I will be able to fit this quilt in – perhaps when the garden is finished.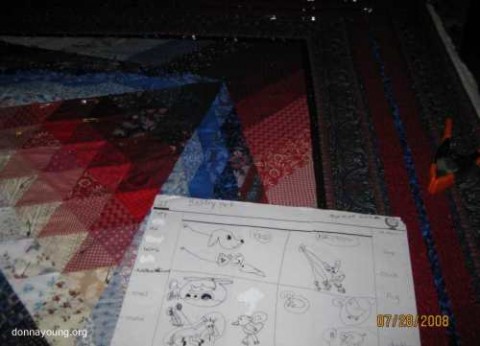 That's all for now, I have to go and pick vegetables and do something with them.
Have a nice day!