Last December when I unplugged my computer monitor to store it while we replaced the floors, I noticed it was beeping very quietly. A couple of months later, I reassembled my desk and equipment and started back to work. The monitor still made the beeping sound, but it was barely noticeable. Shortly after that, the monitor started flashing after turning it on. The flashing would stop after a few minutes but each week it flashed a little longer, then finally, it never stopped.
Prior to that, I researched the problem and found that this is caused by bad capacitors. There are some who have fixed their monitor and I hope to fix this one someday. I also learned that this "flashing" is typical of this particular monitor at just beyond 3 years, which happens to be just after the warranty expires.
Meanwhile, I choose a monitor by a different manufacturer as well as a desk mount LCD arm with a high enough pound rating for the monitor. Below is a picture of it.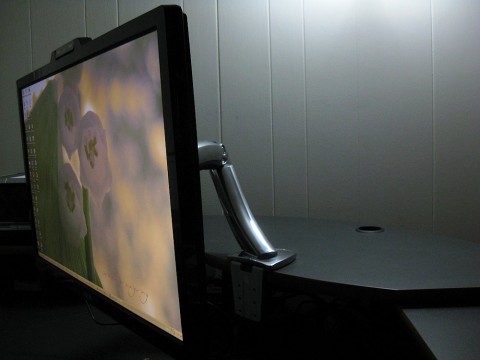 This is the 27″ ASUS VE278Q monitor paired with the Ergatron MX Desk Mount LCD Arm.
I like it. The large monitor offers me a nicely sized work space for the programs that I use to work on donnayoung.org. The desk mount LCD arm allows me to position the monitor to suit me or swing it out of the way.