I have finally started a high school version of the V Planner. I say finally because this has been on my to-do list for about a year. Although I have a lot to do, I am clearing a two-week window during which I will try to finish it, but it might take longer.
This is what I have planned so far
Full Year Subjects and Semester Subjects
One extra S-Sheet – There will be 10 S-Sheets in all. Those who use the V Planner know that 10 S-Sheets usually mean 10 classes, but that will not be the case with the High School V Planner. Several of the S-Sheets will be divided and will be able to support two different subjects. Exactly how many of the S-Sheets will be like this when I am finished is yet to be determined. I will have to formulate how data is received by the printable files and other types of report sheets. I am reluctant to say what I might do at this time regarding the divided S-Sheets.
The image at the top of this page shows a section of a divided s-sheet.
High School Records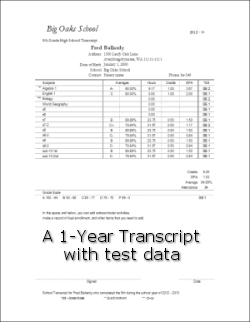 The High School V Planner will be used for the same student throughout high school, up to four years and of course this means records and running records.
Planned (Some of these items are already in the current V Planner)
Automatic transcripts – 4 1-year transcripts and 1 4-year transcript that have the usual information
Automatic Report Cards with the usual information – grades, attendance, credits, gpa, class names
Optional course description records with some automation – probably prefilled with class info, school year, school grade, date completed, and maybe class grade scores. Ideally the only thing you will need to do is to write the course description and I know that alone can be a little difficult.
Automatic course of study record
Worksheets on which to record extracurricular activities, volunteer work, and that sort of thing.
Reminders
Many actions taken during the high school years must be timely, so I hope to include some reminders for you and provide places for you to add plans. I am currently thinking that the calendar will be good for this.
Lesson Plans, Grades
Like the other V Planner, lesson plans are entered and later grades are entered along-side of the lesson plans. Based on your settings, lesson plans are delivered to weekly or daily planners and grades are send to various reports after having run through the calculators. This is typical V Planner and nothing new. The high school version will have the same features.
That is all I can say at this time.