You might have noticed that I've been placing these things that I call generators in my web pages. This seems new, but for years I have had at least one generator on my website at 13-Month Calendar Generator. Just like the calendar generator, the new generators create an image that you can print now or save to your computer to print later. More about printing later.
You should find the generators easy to use; the hardest part is what to write in the form fields. Everyone that has been on the internet for a while should be used to form fields. They are everywhere.

In ART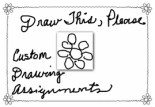 In the case of the Custom Drawing Assignments – Draw This, Please generators write drawing assignments or anything that you want to write. The assignments can be as specific or as broad as you like as long as they fit in the 3 form fields that I have provided for each template and the text string is not too long. I am partial to drawings of little hands.
Lay your hand on the paper.
Draw around your hand.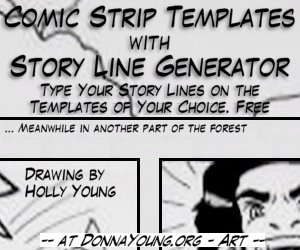 In the case of the Comic Strip Layouts with Story Line Generator write anything you want to write as long as it fits the space provided on the paper.
HELP! My Word is Cut Off!
The form fields allow you to enter a certain number of characters, but maxing out the character limit does not mean that the text string will fit on the generated image. You might wonder why I did this to you. The reason the character limit is probably longer than the image is because some letter take up more space than others — compare the letter "i" to the letter "w". The character limit is not about characters being squished onto the image, it's about letting you enter your text string whether it have a lot of narrow letters or wide letters. SO – when the text string is too long, you'll see when you look at the generated image – go back to the page and edit the text string by placing some of it in the 2nd or 3rd form field.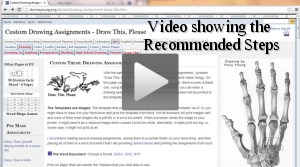 This is all described in the video that I took the time to make. If you love hearing a southern accent, watch it, or watch it anyway. The video is at: Suggestion for Handling the Custom Drawing Assignment Files This video applies to ALL of the "generators."
Printing the Generated Image
The template that you receive after pressing the generate button is an image and it might print well "as is" or you might have to save it to your hard-drive and print the template from there. Not all browsers will print images well, and none of them treat images like a pdf file or a word document. When a browser sends the image to your printer, it might send it as a reduced image which could cause it print too small, alternately, it might print too big, or it might not print at all. If the generated templates do not print well from your browser, please read the recommended steps and watch the video instead of asking me for help.
Upcoming "Image" Generators
If you love these things, you will be happy to hear that I have plans to make more. The possibilities are only limited by my expertise and my willingness to spend time on these types of projects. Usually, if something is hard to do and requires some creativity, I am willing to try it and if I know that people are using the items, I might make even more of them. I really dislike spending time on things that people do not use.
The newest generator, as of this writing, can be found at the Graph Paper I page in the left column. Have a look – Grid Notes Generator. I have already started on another template. Eventually all of the "Grid Notes" will be linked on their own webpage.
Stay tuned!
My RSS Feed – if you really want to know about all the updates and changes that I make to my website add my RSS feed to your favorite reader. This blog doesn't even begin to touch what goes on my My RSS Feed.