HWT font style handwriting lessons 51 – 74 that are coordinated with the book, Teach Your Child to Read in 100 Easy Lessons.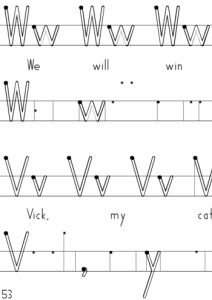 Lessons 51-74 are finally completed. I apologize for taking so long to complete this group of handwriting lessons. Below is a brief overview of what you will find on the lessons.
The handwriting letters that are introduced in this group of handwriting lesson worksheets are p, ch, b, y, j. Uppercase letters practiced are W, V, P, H, D, B. Numbers appear in three of the lessons. The occurrence of blank lines will increase in these lessons. On the blank lines, your student can practice writing either what he chooses to write or he can practice writing what you tell him to write.
The files may be accessed starting at this page:
HWT and TYCTR Handwriting Lessons 51-74