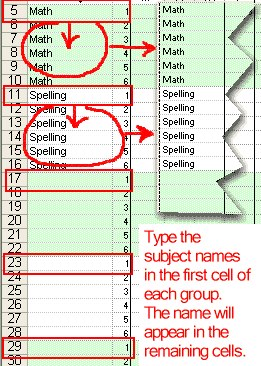 The XLS 10-Subject Grader has been around for a while, but not online. It is just another one of my spreadsheet graders. The PDF version of XLS 10 has been online at the Grade Forms web page at DY.
Just like it's PDF clone, the XLS 10 has space for 10 subjects. Unlike the PDF clone, the grader calculates grade averages for you at 3-week or 1/12 school year intervals. How the grader works and how to use it is explained at the page linked below.
The grader is in xls format and requires a spreadsheet program. It's been tested in MS Excel and Open Office Calc.