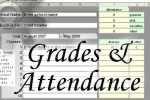 I revisited the Grades and Attendance [G&A] files today. If you do not know what G&A is, it is a grade and attendance keeper in XLS format. I designed it for me, but decided to put it on my web site a few years ago.
Today I made a few changes.
G&A 48 has two files now, one that can keep track of 14-subjects as well as the original 10-subjects.
Weighted Points now has a 3rd option, a G&A that keeps track of 16 subjects. The weighted 10-subject and 12-subject G&A's are still online.