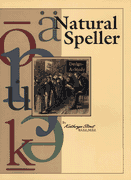 This entry is in reference to Natural Speller by Kathryn Stout. If you have used Natural Speller and want to comment about the book, please do so below.
My introductory comments from Natural Speller
I have used this spelling resource for many years and found it to be a good program. The 92-page book provides you with the necessary tools to teach spelling for the grades first through eighth. The spelling lists are grouped by sound and pattern. There are also numerous other lists such as prefixes, suffixes, Latin and Greek root words, spelling rules, homophones, and more. Use the tools supplied in this book to make spelling lessons for your children. There is also a list of things to teach for every grade through 8th and of course, all the material that you need is in this book –BUT– You just to make the lesson plans yourself and follow through. I'm a hands on kind of girl and I liked that about Natural Speller. Is it right for you? See the 2 points listed below.
Should you use Natural Speller?
If you like making a customized curriculum, then you may like this book.
If you do not like creating a custom plan or if you have limited time, then you should choose a packaged spelling curriculum.
Related at donnayoung.org: