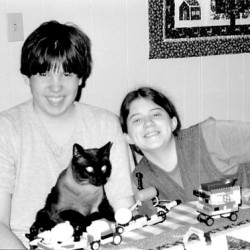 I was tagged by 5 Kids and a Dog.
I wanted to homeschool before I knew such a thing existed, however, I sent my son to Kindergarten and he did fine. The school that is nearby has some very nice teachers. 🙂
Teaching him at home never left my mind. One summer day between his 1st and 2nd grade years, I received a catalog from a company that offered all sorts of homeschooling curriculum. This was a breakthrough for us. From that point, I learned about homeschooling and the laws for our state. Keep in mind that this was before I had internet. My son attended 2nd grade at school and during that year, he spoke often about homeschooling and how much he wanted to be homeschooled.
Meanwhile, my daughter was close to Kindergarten age. I admit that I did not want to send her to school. This was during the same time that children as young as six were getting into trouble for showing affection; in one state, they were calling it sexual harassment. My daughter just happens to be a very affectionate child. Back then, she had to hug and kiss me hourly at least and even now, at 17, she hugs me several times a day. I could not imagine her going to school and getting into trouble for being affectionate. I do not think that children were getting into trouble in our town, but I did not want to test the system at my daughter's expense.
During the summer prior to the school season that we started, I prayed about homeschooling. I was bold enough to asked for two distinct concrete answers. Normally I am not so bold. God answered both promptly and concretly, there was no doubt.
That is how I started. 🙂
Happy Homeschooling,
Donna Young