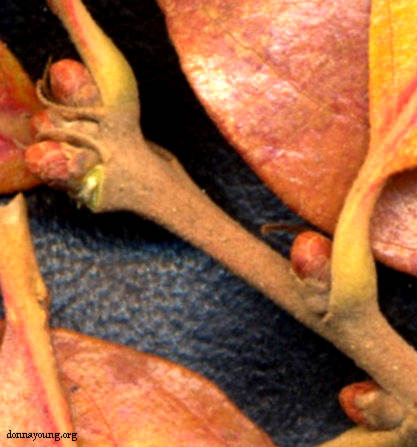 Choose a tree or two to observe. If the tree is deciduous, make an accurate drawing of the branch pattern. What does the bark look like? Can you make a drawing or rubbing of the bark? Can you locate any overwintering bugs on the tree, any eggs?
When the tree breaks buds, look at some of the buds under a magnifying glass. Do you see any bugs? Look at the buds closely, what color are the buds? What is the date and what is the temperature outside? Draw a picture of the buds.
Take note of the day the buds emerged, the first blooms opened, the first leaves appeared. Also take note of the temperature. What types of bugs are on the tree? Make a drawing of the bugs and take note of the date you first saw them.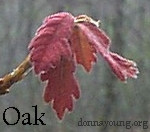 What color are the first leaves, are they fuzzy or smooth? What other qualities make the spring leaves different from the summer leaves?
Gather some of the first leaves, blooms, and seeds when they appear. Press the leaves, blooms, and seeds between the pages of an old phone book for about two weeks, thicker specimens may take longer. Remove the specimens and mount on acid free paper. You can use ordinary white glue to mount your specimens. Make drawings of the leaves and blooms if you prefer.
In the summer, gather some of the matured leaves and press them in an old phone book. What is the shape of the leaves? Are they toothed, untoothed, lobed, unlobed and toothed? Do the leaves alternate on the branches, or are they opposite, or are they compound, or bipinnate?
During autumn when the leaves change colors, what is the date and temperature when your trees begin to change? What are the colors? Do your leaves fall before winter or do your leaves stay on all winter and fall late winter or in the spring?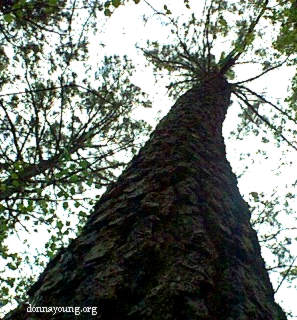 Can you identify your tree? What is its Family, Species, or Author?
How tall can your tree grow?
How tall is it now?
What is the circumference of its trunk?
What is its shape, conical (narrow or broad), spreading (narrow or broad), columnar (narrow or broad),…?
Is it evergreen or deciduous?
Does it prefer sun or shade or semi-shade?
What type of soil does it grow best in?
What kind of climate is the tree normally found?
Is the tree native to your area or from another country?
Does your tree have edible fruit?
What type of insects and animals use your tree for food or home?