Early today and last night, we had storms and a lot of rain. After the rain stopped, I went outside. I just can't stay inside this time of year, so I was out the door as soon as it stopped.
I took a walk in the yard, but I broke one important rule that I made many years ago for the safety of our children. – Do not walk in the woods after heavy rain.
While in the woods, I heard the typical crash and thud of a large falling branch. I finished my walk soon after that. While outside I took some pictures.
The daylilies started blooming today. These are typical orange daylilies. I have had them for over 25 years. They were planted at our first house under a tree by me. Later when our son was old enough for an outdoor baby swing, I placed the swing in the tree over these daylilies. He loved that swing. I brought the plants with us when we moved here 18 years ago. They are planted along one side of the garden.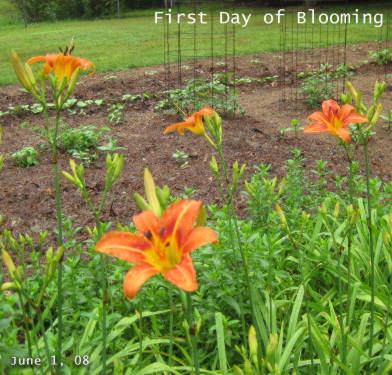 The grape tomatoes are doing what they ought to be doing. I have never grown grape tomatoes before and I hope they are good.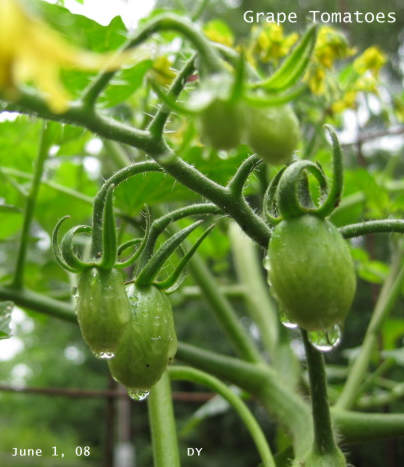 We had a few puddles in our yard; some places were just plain ole standing in a thin layer of water. This puddle had bubbles. What is up with that? It had two places that bubbled. The bubbles would come up, then nothing, then after a couple of seconds, the bubbles came up again. Sometimes my yard worries me. What is under there?
Now I enter the wooded part of the yard. The forbidden area when wet. Pictured below might be one reason I went there – the wild blueberries, when I see them, I eat them.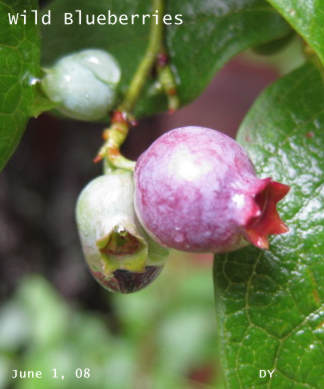 Another fruit living in the woods are the wild black cherry trees. This year they are dripping in cherries. Did you know that wilted black cherry foliage is toxic if eaten? I was going to make this my tree of the year, but I don't have time to do that this year.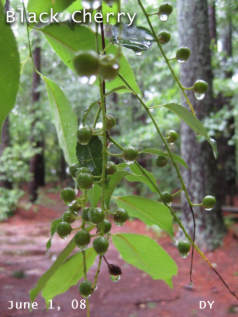 I came across a leafless small tree full of little drops of water. My daughter likes this picture.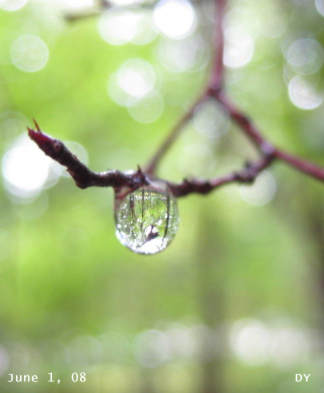 We, the kids and I, used to climb down via this root. Normally, this stream has very little water. This is one of our many places where we spent time exploring and finding things to study.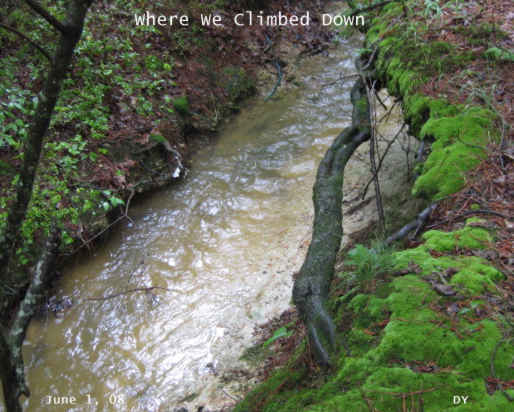 When we receive a lot of rain, this place in the yard collects water. I think something is in the water.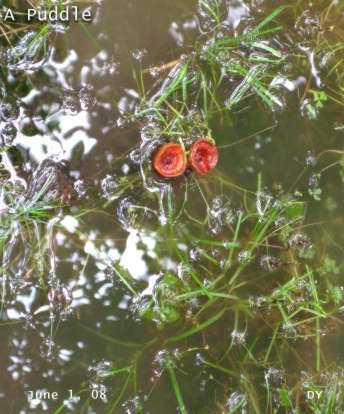 This is the Southern Magnolia Bunny Tree. It's in the front yard and it has been blooming for a few weeks. The blooms have a lemony fragrance. We call it the bunny tree because I buried a bunny at its base when the tree was just a little tree 13 years ago. We rescued the bunny from being eaten, but it died a week later. The children were very moved by the experience and drew pictures to commemorate the bunny. My daughter used to think the new growth on the magnolia was fuzzy because of the bunny.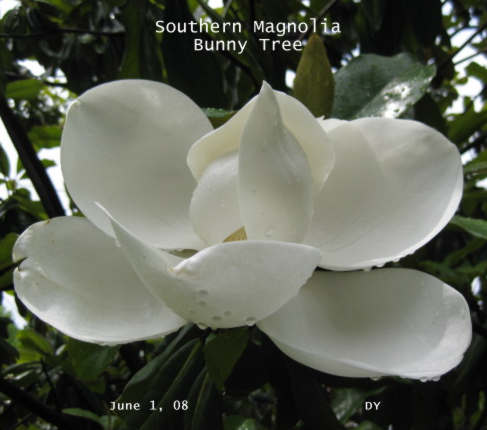 Later I went outside to feed an azalea and a dogwood tree with coffee grounds and heard a big ruckus. It sounded like agitated cardinals. Then I saw it. A red-tailed hawk was in the woods perched on a branch around 6 to 8 feet off the ground. It flew out of the woods and was followed by around half a dozen cardinals. They looked tiny compared to the hawk. I didn't have the camera with me.