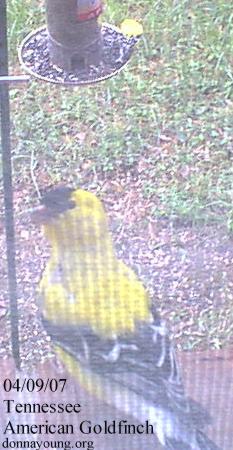 Update to American Goldfinch.
The male goldfinches in this area are now bright yellow except for their black and white wings, white underparts, and black mask. The females remain a duller color and they lack the black mask.
This image shows two male goldfinches.Occasionally I watch the goldfinches. They cluster around the bird feeders most of the time. Sometimes, the goldfinches will eat the seeds that have fallen to the ground. With each other, I have seen them lunging with beaks open until the other backs away. The males also fly off, one chasing the other. I have seen males take over the females' space at the feeder. The females let them have the space and they will fly away or they find another spot on the other bird feeder. When another kind of bird tries to alight on the feeder, the goldfinches make space by either flying away or making room for the bird.
Off topic note: This morning I happened to see a male cardinal feeding a female cardinal. They were on the windowsill where I had spread some sunflower seeds.