American Goldfinches are not very gold during the winter. The feathers which are normally yellow are a rather murky brown-green color. Yesterday I noticed that the goldfinches which visit the bird feeder are growing yellow feathers. In time, all of the murky feathers will be yellow. Today I managed to get a photograph.

Here we have an American Goldfinch with a part winter/summer coat.
The bird is eating black oil sunflower seeds from a cat food bowl.

We, mostly I, enjoy watching the birds at the feeder. Bird watching has educational value to those who want to watch and learn. Our bird feeders are set up just outside the dining room window. Our cat enjoys watching the birds almost as much as I do, maybe more, since he spends more time looking than I do. I took a photograph of him today looking out the window at the feeders.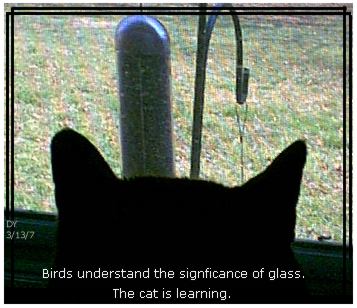 He's learned quite a bit, but he doesn't seem to retain what he has learned. He bumps into the glass at least once a day.
The birds are not disturbed by his presence, at least not until he makes a racket running into the glass. The birds always fly right back.
We have had the bird feeders set up for around 3 months and we have had ground feeders (birds who eat the seed on the ground) all this time, but they are not doing a good job. Yesterday while filling the feeders and cleaning up the area a bit, I noticed some sunflowers have spouted under the feeders. Sprouts are as exciting as flowers, so seeing them was very pleasant, but then I thought about what I would do with them. Now I suppose I will have to clear an area in the sunshine away from the house and transplant the sunflower sprouts there. I would also like to plant zinnia seeds for the goldfinches. They get very excited over a long row of zinnias gone to seed.
Have a nice day!