First and this has nothing to do with embroidery, but I'd like to introduce you to chapstick man and tomato man (a double cherry tomato). Chapstick man lives on my desk and tomato man is just a visitor who is already gone now. Chapstick man is ever-present and is dependably clutching a tube of chap stick. They are standing on my desk on the edge of the embroidered piece that I am about to show you.
I can vividly remember when John drew this picture. We were sitting together on his little red couch in his room and he had his little yellow lap table over his little legs. He was 3 at the time and he was drawing and telling me all about his drawings. He drew several pictures, all of them with family members. He drew a nice one of his paternal grandparents. A few months later, I decided to trace the image onto cotton and outline it in the colors he used with embroidery thread. Then I bordered it with two rows of "markers" and two long "pencils" on the side. After that, I quilted it with echo lines.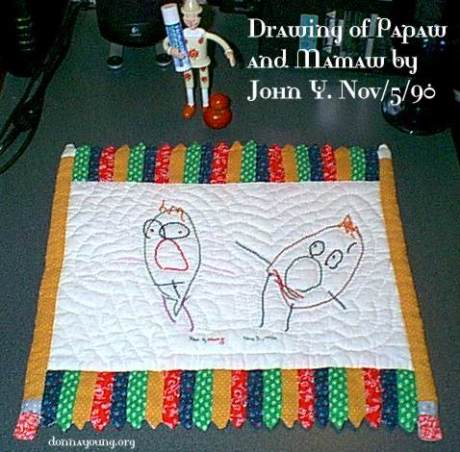 The image below shows the children around the time the picture was drawn, the red couch and the yellow lap table. They are playing in the living room (John called the room, "lemming loom"), and they are having a great time as usual.