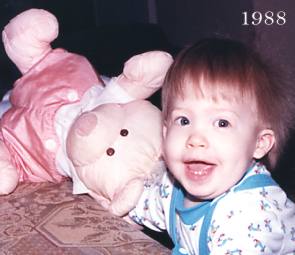 Inspired by:
Mom saves the day!
Nov 2nd, 2007 by tressays
Here we have pictured my son John at 10 months old during January 1988. He is pictured with Mut. When John was 6 months old, we wheeled him in his stroller up to the toy section of JCP where he picked out Mut. John also named him Mut. Mut is from a line of toys called Puffalump. When relatives saw how much he loved Mut, John was bombarded with Puffalump toys. None of them ever became a favorite and they are somewhere in the attic.
Fast forward seven years.
By now Mut is withered and heavily mended and sporting a homemade green outfit. His original outfit became too worn to stay closed. In those previous 7 years, he seems to have learned to fly.
John and Mut were outside playing. Mut had the odd idea to fly toward a tree and he became stuck. You can see that once stuck, Mut forgets how to fly and he hangs on for dear life. John tried to rescue him as you can see in the image that he is jumping, but he just cannot jump high enough. Mom (me) is called into action. Somehow, we managed to get him down without injury, but of course, a photograph was essential to commemorate the event.
Whoops my story isn't as long enough!
filler image: My backyard as it looks 11/13/07
If you have photographic evidence of flying stuffed animals that you rescued after first taking a picture, feel free to copy Tresses, I did.
Donna Young