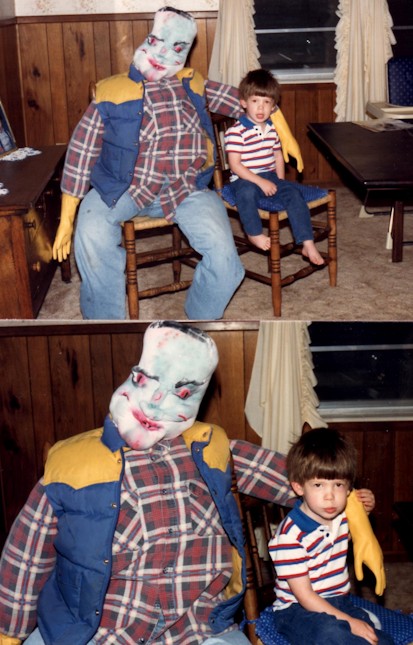 This is John pictured with Mr. Paper.
Mr. Paper was seated outside on our front porch for a few days 19 Octobers ago. His only purpose was to scare away trick or treaters so I could have all the candy, but he failed.
I made the life-size doll from shredded paper, poly fill (for the head), old clothes, a tee-shirt (the head), rubber gloves, markers (to color the head), and sewing supplies.
I don't have instructions because, I didn't have any in the first place, and I made the doll 19 years ago. I can tell you that the head is made from a cut up and re-sewn tee-shirt that I stuffed with poly-fill, then soft sculpted with a needle and thread. The body is simply clothes stuffed with shredded paper and I can not remember how I did that – he didn't leak paper, so I must have secured it all in some way.
–Edited to add both photographs.