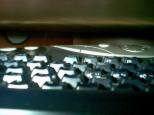 Is your computer slower than it used to be? Check your hard drive. If it is half full or more, then clearing out unnecessary files might speed up the computer.
Have a look at your hard drive. On a windows computer, it is located at My Computer. Find the local drive, usually C and right click it. Choose the Properties and see what you have there.
If the pie is halfway filled or more, then it is past time to clear out all of those files. A few days ago, I cleaned out several gigs of clutter from my computer and its pie looks like this:
I am not finished cleaning out old files yet. I have 20 Gigs more to burn on DVD's. Then I need to start backing up the network files. My computer is the depository for all computers in this house.
On my, I just checked the Shared Docs and this is what the computer has.

What I am doing is burning photo files and other large files to DVD's and then I am deleting the files. I work at my computer and I am not deleting my work files, but I did back them up.
I removed most unused programs and have a few more to remove. That will free up several more gigs.
Another pit of files to look for is the temporary internet files. Your browser should have a place that will allow you to easily delete those. I usually go straight to the folder and pick through it. While I am in the neighborhood, I dump the temp folder.
When I am finished, I will run the disk defragmenter.
And- When I am finished with this blog entry, I am going to delete from the computer the three images that I made just for this entry. 😛 Those images really pile up. (done)
Donna Young
Related:
Computer – Background Tasks